Even 30 years after the wedding, Princess Diana's wedding dress is one of the most famous dresses in the world. The dress is silk taffeta and lace with a fitted bodice and a curved neckline embellished with a ruffled collar and a bow in the center. The sleeves were large puff sleeves with ribbons on them. The dress really set the style for weddings in the 1980s. With the fullness of the skirt and the fitted bodice, the dress style became known as meringue. As soon as Princess Diana stepped out of the carriage, designers all over the world started making sketches to make a knock-off.
Princess Di's train is the longest train ever seen at a royal wedding, measuring in at 25 feet; however, it was detachable. Six different fabrics went into making the dress designed by David and Elizabeth Emanuel including: 25 yards of silk taffeta, 100 yards of tulle crinoline and 150 yards of netting for her veil. The dress is an off-white ivory and features 10,000 pearls and sequins. Even with all of the material, the dress was very light weighing in at maybe two pounds. In following the something old, something new, something borrowed and something blue tradition, the lace was old, the silk was new, the tiara was borrowed from her family line and as for the blue, Princess Di had a horseshoe sewn inside the dress with a blue ribbon. When the dress was made and purchased in the 1980s, it combined with the bridesmaid dresses cost $1,700! Today, though, it's priceless.
While the dress technically belongs to Princes William and Harry, every summer it is displayed at the Spencer Family's Althorp Estate in England. During the year it travels the world as part of an exhibit to honor her life. The dress travels on a mannequin and even has its own security -- it takes half of a day to pack the dress correctly! I can't wait to see what Kate's dress looks like. Will it be as influential as Princess Di's? We'll find out Friday!
Sketch of the dress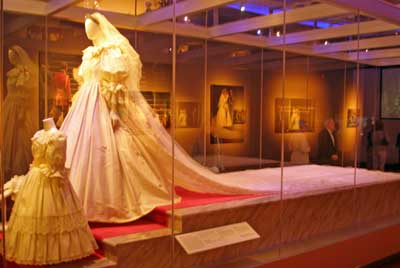 The dress on display
Princess Di in the dress
Carefully unpacking the dress