I've used the Juicy Couture perfume pretty much since it was released in late 2006. I loved the fragrance from the first whiff I got of it. This was the first fragrance released by the company and was met with rave reviews. It featured base tones of caramel creme brulee and vanilla with elegant precious wood and patchouli. It was wonderful and my favorite out of all the Juicy fragrances. I always got complements on it; however, after almost five years and spring rolling around, I wanted something a little lighter smelling. That's when I discovered Marc Jacobs Daisy Eau So Fresh.
I wasn't really even looking for a perfume when I found it; I was actually at Macy's looking for shoes! A bag with purchase was sitting on the perfume counter and that's what drew me over. The sales lady told me they had just restocked the new Marc Jacobs perfume and I had to smell it. Boy, was she right! As soon as I smelled raspberry, grapefruit and peach mixed with wild rose, apple blossom and plum I knew I had found my spring and summer perfume. It's no wonder it sold out almost as soon as it was released. Plus, the bottle is just adorable and so is the free bag I got with purchase!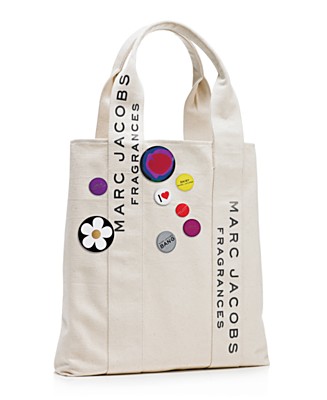 Until we meet again in the fall, Juicy Couture!